Workshops provide a meeting place for ideas, and promote the sharing and nurturing of skills. Training in clown is a very rewarding experience - both for the trained professional actor or the amateur just out for fun. I offer clown training in juggling and scenario work. Perfect for a group project or as part of your entertainment programming.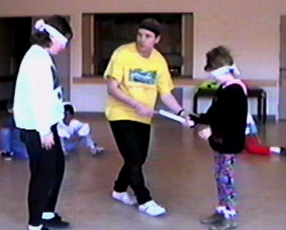 PAGE TO STAGE
(ARTIST IN THE SCHOOLS RESIDENCY)
The residency PAGE TO STAGE involves students in the creative process of script development from initial concept to final production. Through a series of daily workshops, students utilize their own creative talents to transform raw material into a finished piece. The residency culminates in a performance of the work created. Page to Stage is suitable for grades seven to twelve.
Click here to learn more about PAGE TO STAGE
CLASS POEMS
(ARTIST IN THE SCHOOLS RESIDENCY)
My residency CLASS POEMS takes students through the creative process of making poetry. Students are taught to find material and inspiration in everyday objects and create their own voice from their experiences. They can then put their ideas and stories into a poetic structure and present them to their peers. Class poems is suitable for grade K to six.
Click here to learn more about CLASS POEMS