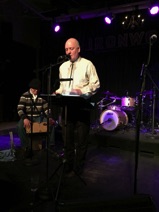 BIOGRAPHY • KIRK MILES
Actor • Writer • Arts Administrator
Actor I've had extensive training in acting, clowning, and dance, and as Hamlet the Clown I've enjoyed a thirty five year career as a professional entertainer. Of the myriad of festivals and special events I've participated in, highlights for me include: Expo '86, the Calgary Olympic Festival, the Edmonton Street Performers' Festival, the Calgary and Edmonton First Night Festivals, and the Calgary Winter Festival. From 1984 - 86 I performed in Alberta schools and I have taught workshops in clowning, juggling, and acting, both for the school system and the community. For ten years I taught curriculum using drama to students in the Calgary school system through program sponsored by Calgary Arts Partners in Education until it dissolved in 2008. Under the Artist in Schools Residency Program sponsored by the Alberta Foundation for the Arts, I have taught playwriting to Alberta junior high school students and poetry to grades four to six as well as teaching for the Epcor Centre for Performing Arts.
Writer My poems have been produced on CBC's Alberta Anthology and my poetry and short stories have been published by several journals in western Canada. As a playwright and as a member of One Yellow Rabbit Performance Theatre's writing team I've had eight plays professionally produced and have earned recognition for my work including a playwriting award from Alberta Culture for co-writing the critically acclaimed Juggler on a Drum. I've had numerous writing grants and four play commissions. My last play commission was an adaptation of The Little Prince into a libretto for the Calgary Boys Choir. In 2005 I wrote poetry for the Lands End Chamber Ensemble and performed it at their fall Cabaret. In 2001 Touchwood Press of Calgary released my first poetry book entitled The Last Six Minutes of Elvis. In 2006 I wrote and produced a show for the 2006 High Performance Rodeo called me & BOB & BOB & me. In the fall of 2006 a half hour special about my life as a poet, called The Heart of a Poet ,was produced by Bravo for BOOK TV. In 2008 I finished a manuscript of poetry about my grandfather called of ash of brick of water which was published in February 2010 and in May 2013 hotel on the cliffs of the heart was published. In April 2009, I won the Alberta Screen Writers award for my screenplay Shadow Maker. In 2008 I created a spoken word show with Ken Sinclair called midnight yoga for alcoholics and we have been touring around the province of Alberta ever since. In December 2015 a book of poems about the holocaust called Moving Dust, was published. In 2012, I won the Golden Beret Award presented by the Calgary International Spoken Word Festival. I have been nominated for Calgary's POET LAUEATE four times and short listed twice. Last year with the help of Alberta Foundation for the Arts I completed a screenplay, based on the award winning novel by Eugene Stickland entitled "The Piano Teacher." with a grant from AFA I have finished my fifth poetry manuscript, Window Opening to Sky to be published in the summer of 2024
Arts Administrator I was the first general manager of One Yellow Rabbit Performance Theatre and, following training at the Banff Centre for the Arts in 1987, I took an eight-month seasonal position as the sales manager for the Calgary International Children's Festival until 1995. In 2002 I returned part-time to One Yellow Rabbit Performance Theatre as the Associate Producer of the High Performance Rodeo for a three-year tour of duty. Presently I am the part-time General Manager of Inside Out Theatre. I was a board member for the Alberta Playwrights' Network, was the co-poetry editor for Blue Buffalo magazine from 1992 – 1999. I am currently President of the Single Onion Poetry Society and have been since 2001 and I sit on the Board for Sieties Magazine.